Bottom Line
A generic but competent Android flagship with stellar audio that's hampered by unreliable gimmicks and bloatware.
Pros
Premium materials and build quality
Strong performance
Beautiful display
Feature-packed camera
Headphone jack with stellar audio
Wireless charging
IP rated
Cons
Generic design
No notification light
Middling battery life
Unreliable palm recognition and hover gestures
Skinned Android
All the bloatware
Back in 2017 I wrote "LG has a problem." I was reviewing the company's G6 flagship — a great phone overshadowed by the marketing might of the Samsungs, Huaweis, and Apples of the world. Fast forward two years, and things haven't really changed. LG's mobile division is losing mind share and hemorrhaging money, following a series of poorly marketed good-but-not-great devices.
Today I'm reviewing the LG G8 ThinQ, the company's answer to Samsung's mighty Galaxy S10. Usually, LG launches its high-end G-series handset in the spring, and its V-series multimedia powerhouse in the fall. But at MWC 2019 recently, it announced the G8 and V50 ThinQ at the same time, billing them as 4G and 5G flagships, respectively, This positions the G8 as LG's top mainstream phone for the next year — an odd strategy.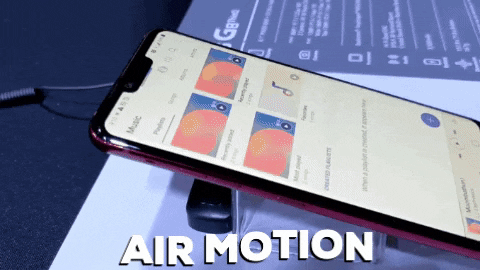 Other than an in-display speaker and time-of-flight (ToF) camera, the G8's specs and design don't particularly stand out against the competition. As a result, LG is pushing a series of features — including Air Motion hover gestures, and Hand ID palm recognition — that seem more like gimmicks than meaningful innovation. So, are these actually useful? Does the G8 nail the basics? Is it worth buying? Let's find out in this review.
Hardware and design
"Forgettable" is how I'd describe the G8's design — especially in the subdued Aurora (blueish) Black hue my review unit came in. LG calls it "minimalism", and while accurate, I think that's a cop-out. The G8 almost blends into its own negative space, almost apologizes for existing. The Morocco Blue and Carmine Red models are less boring, but have nothing on Huawei's spectacular P30-series colors.
This isn't to say the G8 is poorly made or low quality. LG shows great attention to detail here, with Gorilla Glass 6 front and back (curved on all four edges), a polished aluminum frame, flush-mounted under-glass cameras, and no earpiece (more on that later). It's also water and dust resistant (IP68 and MIL-STD-810G rated). In all, this is a sleek and premium handset, but so is every other flagship these days.
While the G8 doesn't look very memorable, it feels really good in hand. It's a smaller phone (151.9 x 71.8 x 8.4mm, 167g), thanks to a 6.1-inch screen with minimal bezels and a notch. The display is also a speaker, which is why there's no earpiece. Instead, the notch is home to a next-gen ToF camera alongside the 8MP f/1.7 front shooter, which enables secure face identification, palm recognition, hover gestures, and better portrait selfies. That notch lacks a notification LED, though.
In back, the glass is interrupted only by the fingerprint sensor and flash, since both rear cameras — 12MP f/1.5 main and 16MP f/1.9 wide-angle — are installed right under the surface, eliminating any kind of bump. The power/lock key and nano-SIM/microSD tray are located on the right side, and the volume rocker and Google Assistant button are mounted on the left, along with a small mystery hole. There's a secondary mic on top, and a primary mic, speaker, USB Type-C port, and headphone jack (yes!) on the bottom edge.
Display
LG usually does a pretty good job with its displays, and the G8 is no exception. It features a 6.1-inch FullVision (edge-to-edge) Quad HD+ OLED screen (3120 x 1440 pixels, 564ppi) with a 19.5:9 aspect ratio, HDR10 support, and a notch. This is a beautiful panel, with vibrant but accurate colors, super dark blacks, and impeccable viewing angles. Unlike some other OLED screens, It exhibits very little off-axis discoloration and is bright enough to remain usable in direct sunlight.
But one of the G8's party tricks is the in-display speaker. LG calls this Crystal Sound, and it basically uses the OLED panel as a diaphragm by placing an exciter behind the top quarter of the screen. Not only does this completely replace the earpiece, but unlike Huawei's implementation on the P30 Pro, it's loud enough to complement the main speaker. It also sounds surprisingly good (more on this later).
Camera
Imaging is what makes or breaks a phone these days, and LG's always been pretty competitive on that front. After all, it was first to include a dedicated wide-angle camera on its devices, something that's become quite popular with other manufacturers lately. I honestly find it more useful than a telephoto (zoom) shooter, given the choice. To this end, most recent flagships have three rear cameras for maximum flexibility.
And that's where the G8 falls short. While it inherits the V40 ThinQ's 12MP 78-degree main and 16MP 107-degree wide-angle shooters, it lacks the V40's 12MP telephoto camera — except the South Korean variant, strangely. So here in the US, we're only getting two shooters in the back, regular and wide. On the plus side, though, the G8's camera system is a solid performer, thanks to a fast f/1.5 main lens with OIS, and a main sensor with large 1.4-micron pixels — not to mention the class-leading f/1.9 aperture on the wide-angle shooter.
The resulting photos are generally pleasant. Color and exposure are particularly good, and the main camera shines in low light. There's a Night View mode, but it doesn't perform as well as Google's Night Sight or Huawei's Night mode. Other capture modes include portrait, AI, manual, cinemagraph, panorama (up to 360-degree), food, and AR stickers, to name the most relevant. I only have one minor niggle, and that's the lack of autofocus on the wide-angle lens, which would allow macro shots like with Huawei's Mate 20- and P30-series.
When it comes to video, the G8 records at 4k / 60fps stabilized with the main shooter, and 1080p / 30fps stabilized with the selfie camera. It also supports HDR10, and features LG's excellent manual video mode, plus slow-motion, time lapse, and Video Depth Control — basically portrait mode for video. It works reasonably well, and provides yet another creative outlet beyond the already long list of modes. Combine this with the headphone jack which handles external mics without an adapter, and we have a winner.
Selfies are handled by an 8MP 80-degree f/1.7 shooter with 1.22-micron pixels plus a ToF camera. The Z Camera, as LG calls it, measures depth to millimeter accuracy, allowing 256 levels of background blur for a more natural bokeh effect when taking selfie portraits. And with the new Spotlight mode, you can shine a virtual light on a subject's face to eliminate shadow areas — very cool. Oddly, there's no portrait mode for selfie videos.
Reception and sound quality
I used the G8 in San Francisco and Portland on Verizon's LTE network (my review unit is the Verizon model) and didn't notice any problems with voice quality or data speeds. WiFi reception is a little weaker in fringe signal areas than other phones I recently tested, but I don't think it's anything to worry about. Both the Crystal Sound OLED in-display speaker and the main speaker sound fine during calls.
Audio has long been LG's big differentiator, and once again, the G8 delivers. First, the headphone jack is mated to ESS' phenomenal 32-bit HiFi Quad DAC. It's like having a $1,000 standalone DAC and headphone amp built right into the handset. Second, the Crystal Sound OLED and main Boombox stereo speakers have been tuned by audio manufacturer Meridian and sound great. Third, DTS:X 3D is available through both the headphone jack and speakers to add more dimension to any content. Excellent stuff.
Performance and battery life
The G8 uses Qualcomm's flagship Snapdragon 855 SoC, which incorporates a speedy octa-core Kryo 485 CPU, Adreno 640 GPU, and X24 Gigabit LTE (CAT 20) modem. It's paired with 6GB of RAM and features 128GB of storage (expandable via microSD card up to 2TB), WiFi 802.11ac, Bluetooth 5.0 with aptX HD, NFC, A-GPS / GLONASS / BeiDou, and the usual bevy of sensors. A 3500mAh battery completes the package.
As you'd expect, the G8 is really fast. It never skips a beat — whether you're playing the latest games or juggling a bunch of social media apps. Day-to-day, it's just as snappy as Samsung's Galaxy S10 or the highly optimized Snapdragon 845-equipped OnePlus 6T. Battery life is decent, typically yielding 4+ hours of screen-on time. While that's not spectacular, it means most people will only have to charge once a day. And when that time comes, the G8 supports Quick Charge 3.0 and Qi wireless charging.
What's more interesting is that you can unlock the G8 using three different forms of secure biometric authentication: fingerprint, face, and palm. First, there's a standard capacitive fingerprint sensor on the back of the phone. Second, the Z Camera enables secure face identification, like Apple's Face ID. Third, the Z camera also enables what LG calls Hand ID, which recognizes the unique pattern of veins in the palm of your hand.
This is possible because the ToF camera is sensitive to infrared light (ie. heat), and the blood in your veins is warmer than the surrounding tissue. In practice, the fingerprint sensor is the quickest and most reliable way to unlock the G8. Face identification is marginally slower and pretty reliable, although it often fails when I wear different glasses than the ones I used during setup. Palm recognition is really slow and super finicky, and while it's technically more secure, it's just not ready for prime time.
Gimmicks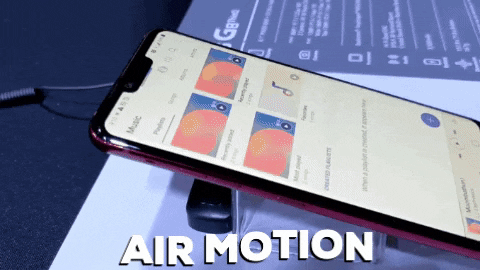 Picture this: you're cooking in the kitchen and your hands are messy. Your G8 is on the counter right next to you playing music and you want to turn the volume down. Do you (a) say "Hey Google, turn down the volume" or (b) hover your hand above your phone's display, hope that Hand ID unlocks it, then make a series of carefully orchestrated gestures and hope the Z camera recognizes them?
Welcome to Air Motion, a bad idea with an even worse implementation. I'm all for alternative input methods, but the tech needs to work. I tried to master Air Motion's gestures several times and just gave up — it's just not reliable. On top of that, functionality is limited to launching apps, taking screenshots, plus controlling calls, alarms/timers, and media volume/playback (for YouTube and LG's music/video players only) — all things you can do with Google Assistant. So why bother?
Software
Ten years into Android, and skins (or interface customizations) are still very much a thing — for better or worse. How you feel is really a matter of personal preference, but I'm more of a stock Android fan, if there's still such a thing. After all, even Google's Pixel devices aren't 100% stock anymore. It's no surprise then, that the G8 runs LG's UX 8.0 on top of Android 9 (Pie) — a skin has not changed much since the G6 two years ago.
Samsung's One UI, while lightweight, polished, and generally a massive improvement over past skins (remember TouchWiz?) is still unmistakably Samsung. LG's UX 8.0 — much like Huawei's EMUI 9.1 — is less subtle, more convoluted, and somehow devoid of a clear identity. It still gets in the way, but at least it's reasonably fast, and its flaws are mostly remedied by installing a decent third party launcher and keyboard.
So what does LG's skin bring to the table? It's a mixed bag. Some features are welcome, like Knock On (double-tap to wake) and the lovely LG Smart font, Others are unnecessary, like AppFlash (an alternative to Google's Discover page located to the left of the home screen), the default launcher which comes in two flavors (with and without app drawer), and the optional tab view in the settings (who even wants this?)
I'm not gonna bore you by listing the plethora of preinstalled apps Verizon's version of the G8 comes with. To be honest, I can't remember them because I uninstalled all this bloatware right after setting up the phone. But trust me — it was a complete mess. I don't mind LG's apps, but do we also need Amazon's apps, Verizon's apps, and a bunch of games? No. And don't get me started on Verizon Messages.
Price and competition
Here in the US, the G8 will be available starting April 11 for just $620 from T-Mobile, $700 (unlocked) from Best Buy, $830 from AT&T, and $840 from Verizon and Sprint. This puts the handset squarely in Samsung Galaxy S10e and Apple iPhone XR territory, since both cost $750 and offer similar specs. And then there's the OnePlus 6T, which costs $550 from T-Mobile and $580 (unlocked) from OnePlus — not to mention the upcoming OnePlus 7, which is still unannounced.
Compared to the G8, the Galaxy S10e comes with a smaller, lower resolution display (5.8-inches, 1080p) and a smaller battery (3100mAh). The iPhone XR comes with less storage (64GB) and a single camera, but no headphone jack. With the OnePlus 6T, you get an older processor (Snapdragon 845), no wide-angle shooter, no headphone jack, no water resistance, but you also get a bigger screen (6.4-inches), larger battery (3700mAh), an in-display fingerprint sensor, and an almost stock version of Android 9.
LG's own V40 ThinQ still sells for $600 from T-Mobile and $720 from Sprint. It features a smaller battery (3300mAh), less storage (64GB), an older processor (Snapdragon 845), but a larger screen (6.4-inches), similar cameras (plus a third, telephoto shooter), and a headphone jack (with the same 32-bit HiFi Quad DAC). Finally, there's also Huawei's P30 which you can import for less than $700 and offers an outstanding triple camera system but a lower resolution display (1080p).
Bottom line
The G8 ThinQ is a beautifully crafted phone with solid specs, great performance, an excellent display, a nice camera (particularly for video creators), and incredible sound quality (especially via the headphone jack). At 6.1-inches, the screen is slightly smaller than many other flagships, making the device easier to hold. Better yet, LG didn't skimp on features like water resistance and wireless charging.
On the other hand, the G8 looks uninspired (subjective, I know), comes up a little short on battery life, lacks a telephoto shooter (in addition to other two), runs a skinned version of Android 9, and suffers from excessive bloatware. And then there are the gimmicks — Hand ID and Air Motion — which seem like solutions looking for a problem, gratuitous ways of showcasing the otherwise useful Z Camera. I would give the tech a pass if it worked reliably, but it just doesn't.
In the end, I only see three reasons to buy a G8. You're an audiophile who seeks the absolute best audio experience on the go. You're a long-time LG customer who wants a quality mid-size handset with a Snapdragon 855, a 1440p display, a wide-angle camera, and a headphone jack, and you can live with skinned Android. You're a T-Mobile customer looking for a cheaper alternative to the Galaxy S10e. These are awfully thin slices of the mobile market. Good thing LG sells a lot of TVs, fridges, and washing machines, eh?