Bitcoin is currently one of the hottest topics in the world. What started off as a little-known online experiment with the idea of currency, has now become one of the most puzzling and exciting technological avenues that mankind looks set to venture down. All over the world, people watch on as Bitcoin's value continues to grow, with no end in sight. The Bitcoin ride so far has been a crazy one – with winners and losers; those who've been extremely lucky and others who really, really haven't. We've collected some of the most interesting stories involving Bitcoin here, for your reading pleasure.
#1 The Bitcoin Bet
What would you have done, age 12, if your grandma had given you $1000? Invested it in a volatile and semi-experimental online currency, right? No, me either. But that's exactly what Erik Finman of Idaho did. After a tip-off from his older Brother, Erik bought $1000 worth of Bitcoin in 2011. A few years later – after dropping out of high school and getting home-schooled – he made a bet with his parents that if he made a million dollars before his 18th birthday, they wouldn't make him go to college, and in June last year, when the value of his original investment had increased by more than 100-fold, Erik declared the bet won.
#2 Bitcoin Buried Treasure
James Howells is an IT worker from Great Britain who started mining Bitcoin all the way back in 2009 and managed to accumulate 7500 before storing them all on a hard drive – today those Bitcoin are worth over $120 million. Pretty sweet for James Howells, right? Well, it would be, if the hard drive wasn't buried under thousands of tonnes of landfill. James mistakenly threw away the hard drive in 2013 and once he realized his mistake, he contacted the local council, to see if there's any way he could get it back, but due to the potential environmental hazards of digging up that much old waste, the council have so far declined his requests.
#3 Vibin' with Bitcoin
Porn site Cam Soda recently launched a service called Bitcast, which is interactive and connects with one of a special line of sex toys, made by the company Lovense. Vibrator or whatever your choice of toy, sync it up to Bitcast and the intensity of its vibrations will fluctuate in real-time coordination with Bitcoin's value. Nuff said.
#4 The Mt Gox Heist
Those newer to the world of Bitcoin may not remember Mt. Gox. Once the largest Bitcoin exchange in the world, Mt. Gox's story rocked the cryptocurrency world and caused a major setback for the digital currency industry. Having been the biggest exchange for most of Bitcoin's life, Mt. Gox filed for bankruptcy in 2014, after months of tech issues. Not only that, it was reported that at some point, 744,000 Bitcoins had been stolen from the company – without anybody even realizing. With only around 12.4 million Bitcoin in circulation, this theft accounted for almost 6% of the total amount of Bitcoin available.
#5 The Most Expensive Pizza of all time?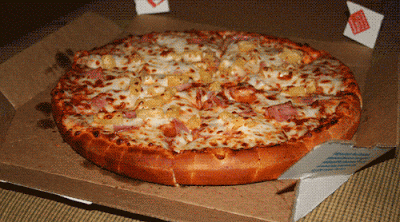 What's the best pizza you've ever eaten? How much would you have paid for it? How about 10,000 BTC? In 2010, Laszlo Hanyecz of Florida wrote himself into the history books, when he became the first person to exchange Bitcoin for real goods. Via Reddit, Hanyecz made a deal with a guy over in England – Laszlo would send him 10,000 Bitcoin – at the time a more-or-less worthless online-currency – if the Englishman would order him a pizza from his local Papa John's. At time of writing, that amount of Bitcoin is worth approximately $159 million – we hope it was a very, very nice pizza.