Plantronics Backbeat Fit 500 Headphones review
Bottom Line
For just
$79.99
,
Plantronics
BackBeat FIT 500 headphones make for a great pair of affordable wireless gym headphones. They sound good, offer great Bluetooth range, excellent battery life, and are extremely user-friendly. They stay on nicely for running and jogging, but you may want to try before you buy to see how you like the fit. Most people will enjoy them outside of the gym too - as long as you're not a big audio snob.
Pros
Affordable
Long Battery life
User-friendly controls
Sweatproof
Very good audio for its price point
Lightweight
Great Bluetooth range
Cons
Fit comfort may vary by person
Won't satisfy audiophiles
A pair of wireless gym headphones for under $99? That almost sounds to good to be true. But my favorite everyday headphones are Plantronics BackBeat Pros, so even being priced at just $79 on Amazon, my expectations for the Plantronics BackBeat FIT 500 Sports Headphones were high when I began testing.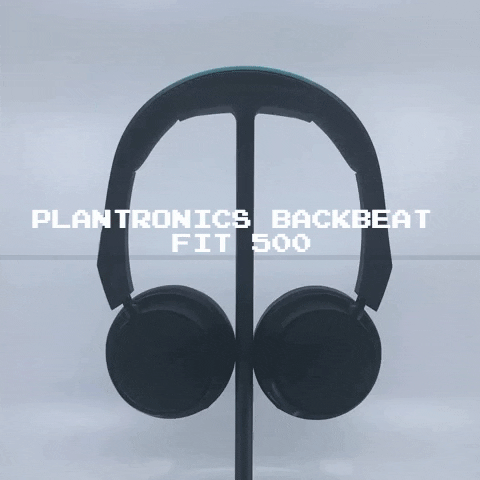 Design
The design of the BackBeat FIT 500 is what struck me first. They're quite unique with bold angles on the headband and teal colored accents.  They also come in all black. While the headphones design is pretty unique, I really love their on-ear controls. The on-ear controls are very easy to figure out and use. You Play/pause using the soft button in the center of the left ear cup. The volume button is a hard button on the side of the earcup, which is not as intuitive, but still really easy to get used to.
While they usually go hand-in-hand, I find the comfort to be a little better than the fit. The memory foam cushioning is really soft and well padded. Maybe it is just my ears, but the fit never felt quite perfect. I'd make regular small adjustments and had to hold them in place for sit-ups. They hurt when wearing glasses after extended use.
The headphones are light. And, pretty small for on-ear headphones. The fit feels kind of strange at first. Not bad, also not the most comfortable headphones in the world, but reasonably comfy. After two weeks of testing, I'd hit the basics: weightlifting and jogging. The fit was still good, except for exercises where your head moves back and forth like sit-ups or lower back extensions. Usually, I'll just lightly hold them in place, which works fine for those exercises. They've gotten plenty sweaty too and haven't gotten smelly. Must be that P2i military nano-coating! After an hour of wearing them with glasses, they do start to hurt. Without glasses, they feel fine after an hour.
Sound and Performance
The audio quality is above average for gym headphones, especially in this price range. I've gotten really accustomed to their sound profile at the gym. There's a lot of detail and a nice amount of thumpy bass that doesn't overpower the midrange audio and they're well balanced. They're pretty good as everyday headphones too, however, they do lack some clarity in the high and mid-range.
Features
Feature-wise these headphones felt a little light for Plantronics. There's no special featured included such as auto-pause when you remove them. But all the basic features are included, and the microphone for calls and voice activation work really well.
There's an app available, but the only real feature it offers is for finding your headphones by playing a loud sound through the earpieces. We do like that you can pair the headphones with two devices at a time. Bluetooth range has been really strong, I'm free to move about the whole gym and there are no issues even without a direct line of sight.
 Battery Life
The battery life on the BackBeat FIT 500 headphones exceeded our expectations, especially at this price-point – I got about 20 hours over 4 weeks before even charging them for the first time. Standby works well too, so technically you don't ever need to shut them down.