Before you ask… yes, the new Bill and Ted movie will be both bodacious and excellent.
'How do we know that?' you are probably asking.
If we told you that we travelled to the future in a telephone box that a guy named Rufus let us use, would you believe us?
No… OK, well we'll have to go with our other sources so – Deadline has reported that both Alex Winter and Keanu Reeves are on board to reprise the roles they played for the first time over 27 years ago and one of the scriptwriters has also revealed a few details about the future film.
It has also been reported that Galaxy Quest's Dean Parisot is set to direct.
In an interview Digital Spy, Bill & Ted writer Ed Solomon discussed the state of the script for the third movie.
Solomon, who is working on the script with Chris Matheson, said that one of his favorite things about this new instalment is that the two protagonists will be middle-aged men.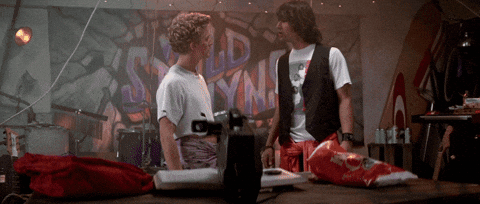 He also gave some insight into the plot, which will see the pair travel back in time and interact with the younger versions of themselves. The iconic Circle K plays a big part and footage from the original film will also be used.
It's not clear how this will be done yet, but Solomon seems pretty excited about it.
He told Digital Spy that
"there's actually a scene – one of my favorite scenes in the whole movie –where middle-aged, 50-year-old Bill and Ted return to the Circle K and see their teen selves and Rufus"
and he added that the pair even "interact with their teenage selves, played by their actual teenage selves."
Sounds a little trippy to us… especially when you consider the fact that George Carlin, who played Rufus, has been dead for around 20 years.
Legendary comedian, Carlin, will have his memory live on in this movie in a rather sweet way.
Solomon has revealed that a character called Kelly plays a significant role in the movie and that name was chosen due to the fact that it is the comedian's daughter's actual name.
This sequel is going to be very excellent. Very excellent indeed.